Welcome to our round-up of all the latest foreign lobbying news in Washington and beyond.
A former ambassador to the US and a top aide to Barack Obama's 2004 Senate campaign have joined forces to launch what appears to be the first lobbying firm aimed at leveraging ties to the Joe Biden campaign.
Former Serbian envoy to Washington Vladimir Petrovic incorporated Praia Consultants last month. He told Foreign Lobby Report in an interview today that he created the firm in tandem with former Obama Chicago aide Dan Shomon.
The firm has already landed its first big contract: A $1.2 million deal with Pillsbury Winthrop Shaw Pittman to help represent the Embassy of Qatar in Washington.
Read our full story here.
---
The US subsidiary of the Chinese company behind China's massively popular WeChat app has hired a top Mergers & Acquisitions lawyer amid rising US pressure, Foreign Lobby Report first reported Friday.
Tencent USA hired New York lawyer Toby Myerson to deal with President Donald Trump's Aug. 6 order giving US firms 45 days to unwind their relations with WeChat. The lobbying registration comes days after parent company Tencent Holdings hired Myerson's former law firm, New York-based Paul Weiss Rifkind Wharton & Garrison, to lobby on the same issue.
Meanwhile TikTok announced today that it was suing the administration. In another Aug. 6 order, Trump effectively banned the viral Chinese video app in the United States.
---
New foreign lobbying filings (FARA)
El Salvador: A lobbying firm with close ties to President Donald Trump has disclosed a $450,000 contract with El Salvador's State Intelligence Agency. After the Associated Press revealed the agreement with the Sonoran Policy Group (SPG) on Friday, however, the office of President Nayib Bukele told the wire service that the president had never approved the contract and had it annulled. The contract, which was effective Aug. 15, was for "government relations, media relations and economic development advice" including building ties to government officials, media, company executives and trade organizations. Registered on the account are firm founder Robert Stryk, CEO Christian Bourge and SPG Latin America President Mario Duarte.
An Oregon winery owner who helped informally on Trump's 2016 campaign on the West Coast, Stryk made it big representing a slew of controversial clients over the past four years. Sonoran made $5.4 million in just a few weeks after its 2017 contract with Saudi Arabia's Interior Ministry was upended by a palace coup. The firm also kept $2 million as a short-lived subcontractor working for the Nicolas Maduro government in Venezuela. And just last month, the firm struck a $10 million contract to represent a jailed Algerian tycoon.
---
Ethiopia: Ethiopia's new lobby shop has added a third person on its account with the Ethiopian Embassy in Washington. Jules Frank Mermoud, a former official of the now-defunct US Information Agency under Presidents Ronald Reagan and George H.W. Bush, will provide "consulting, commercial advice and non-legal counsel" for a $30,000 fee as a consultant to Barnes & Thornburg.
Mermoud played a key role in drafting the 2016 Republican foreign policy platform that removed references to arming Ukraine, The Guardian reported at the time. The newspaper reported that Mermoud was "involved in business ventures in Ukraine via Cub Energy, a Black Sea-focused oil and gas company of which he is a director" and had "longstanding ties" to Donald Trump's 2016 campaign chairman, Paul Manafort. Mermoud is also on the board of the US-Ukraine Business Council.
The Ethiopian Embassy signed a three-month, $130,000 contract with Indiana-based Barnes & Thornburg in late June, giving the country its first US lobbying presence since the election of of Prime Minister Abiy Ahmed in 2018, as Foreign Lobby Report first reported July 17. Mermoud joins Barnes & Thornburg partner Craig Burkhardt and consultant Claire Buchan Parker. Parker's registration says she will be working on "public relations to assist Ethiopia with its Grand Ethiopian Renaissance Dam project." Ethiopia is keen to offer a counter-weight to Egypt's close ties to the Trump administration, which is widely seen as favoring Cairo in its dispute with Addis-Ababa over the massive Nile dam.
---
Saudi Arabia: Edelman has added three more people to its $6 million account to promote this year's virtual B-20, the G-20's business summit. They are: Senior Account Executive Makena Dingwell in Washington; Senior Account Manager Eloise Margaret Rose Cazalet in London; and Assistant Account Executive Adam Ontiveros-Oberg in Washington. Saudi Basic Industries Corporation (SABIC) is footing the bill. This brings the total of registered agents on the account to 21. Edelman has announced plans to lay off 390 staffers because of the COVID-19 epidemic, but to date has not disclosed any terminations on the B-20 account.
---
New domestic lobbying filings (LDA)
The ​Canadian National Railway Company has hired Envision Strategy to lobby Congress and the Transportation Department. Lobbying on the account are Steve Stallmer, former chief of staff to ex-Rep. Chris Gibson, Republican of New York, and Brett Heimov, a former aide to Rep. Jerrold Nadler (D-N.Y.). Envision joins BGR Government Affairs, Chambers Conlon & Hartwell and Tai Ginsberg & Associates on the account. The company also spent $380,000 in in-house lobbying in the first half of the year.
---
In other news
Facebook CEO Mark Zuckerberg has played a key behind-the-scenes role stoking fears in Washington about viral Chinese dance app TikTok, the Wall Street Journal reports. Under fire for spreading fake news and violating users' privacy, Facebook has spent more than $10 million on lobbying in the first half of the year – more any other tech company. Meanwhile TikTok owner ByteDance spent $800,000 on in-house lobbying over the same period.
---
Libyan strongman Khalifa Haftar's influence efforts to get close to the Donald Trump administration could pay off legally. Lawyers defending him in a $125 million wrongful death case brought by the families of people killed in the fighting over Tripoli are arguing he cannot be sued because he's a US ally: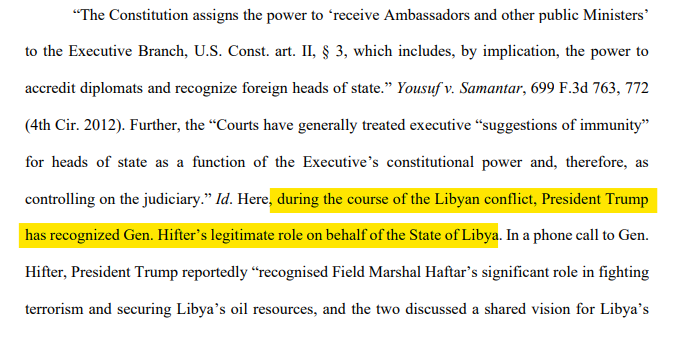 Read the full document here (h/t @aaronjschaffer). For more on Haftar's now-defunct US lobbying campaign, read our June 25 story.
---
Finally, Hawaii is facing its own foreign lobbying scandal. Prominent Hawaii political fundraiser Nickie Mali Lum Davis is one of several people accused of being paid $8 million to help organize a 2017 meeting between President Donald Trump and then-Prime Minister Najib Razak of Malaysia. Razak has been sentenced to 12 years in prison over his alleged role in the $4.5 billion 1MDB scandal. Davis and others are also reported to have met with the alleged architect of the theft, fugitive financier Jho Low. Read our June 18 scoop on the Kuwaiti royal and Thai tycoon underwriting a $3.4 million PR campaign to rehabilitate Jho Low's image here.
---
Sign up here to receive our daily email with links to all our latest content. You can read all our past Daily Digest issues here.