Afghan group lobbies against Sept. 11 troop withdrawal
President Joe Biden's announcement today that he planned to pull out the remaining 2,500 US troops in Afghanistan by Sept. 11 was immediately challenged by a group of Afghans who have vowed to advocate against what they call a "hasty" troop withdrawal.
"The Afghanistan-U.S. Democratic Peace and Prosperity Council believes that the US troop presence is a critical element to securing a sustainable peace agreement, and we urge President Biden to pursue a conditions-based troop withdrawal from Afghanistan, rather than an unconditional withdrawal on September 11th, 2021," the council's executive director Martin Rahmani said in a statement. Rahmani added that "many members of Congress, and members of the administration, particularly in the Department of Defense and Intelligence Community," shared a similar view that Biden's plan would take away the Afghan government's leverage to negotiate a fair peace deal with the Taliban.
Based in Washington, the council is funded by Afghan businessman Mohammad Gul Raoufi. Three Afghan lawmakers sit on its board of advisers: Mir Haider Afzaly, Naheed Farid and Haji Ajmal Rahmani. The group registered under the Foreign Agents Registration Act (FARA) in March 2020 and has hired two lobbying firms since then: Wise Capital Strategy, headed by former Republican Capitol Hill aide Matthew Wise, and veteran Republican operative Joe Pounder's Bullpen Strategy Group. Wise is being paid $30,000 per month and Bullpen $25,000 per month.
Another two firms are registered as subcontractors to Wise: Jake Perry + Partners, headed by a former top adviser to then-Senate Majority Leader Harry Reid (D-Nev.); and DunCap Strategies, a Mississippi firm led by the former director of communications of that state's Republican Party, Jennifer Dunagin.
---
ICYMI: Ecuador VP winner hired lobby firm for pre-election visit to Washington
With Guillermo Lasso's unexpected victory in Ecuador's presidential election, we're re-upping our story about his running mate's pro bono lobbying contract.
Physician-turned-politician Alfredo Borrero hired Washington-based consulting firm Moonlight International last month to help coordinate meetings during his visit to the US in late March "in order to set up preliminary relationships for COVID-19 pandemic response in Ecuador." Moonlight did not return a request about whether it had plans to represent Ecuador once the new government takes office on May 24.
Read our March 24 story here.
---
New lobbying filings
Africa
South Africa: Ba-Shen Welch of Alabama has registered as a foreign agent for South African businessmen Tshilidzi Ratshitanga and Sihle Mzoneli. The two men are co-owners of Mitupo Investment Holdings in Johannesburg. Welch is a consultant on higher education and international affairs who was previously vice president of Strategic Initiatives at Miles College in Fairfield.
Americas
Haiti: Mercury Public Affairs is helping the Embassy of Haiti in Washington organize a series of town halls to "engage the diaspora on constitutional reform." The firm is also helping set up interviews with Haiti's Elections Minister Mathias Pierre regarding a controversial June 27 referendum on constitutional changes that would abolish the Senate and the post of prime minister ahead of next year's presidential election.
The public relations effort comes as several diaspora groups have been pushing Congress to urge President Jovenel Moise to step down amid political clashes in the country. Mercury disclosed receiving $506,000 ($368,000 in fees and $138,000 in expenses) for its Haiti work in 2020.
Asia
China (Huawei): Account director Jacqueline Kane has left Racepoint Global, where she had been a registered agent on the Boston technology communications firm's account with Huawei. The Chinese telecommunications giant's US subsidiary extended its contract with Racepoint last fall for $1.94 million through October 2021. The firm has represented Huawei Technologies USA since October 2018 and disclosed almost $3.74 million in payments since then.
Japan: Ogilvy has signed a one-year, $282,000 extension to its contract with the Embassy of Japan. The firm is tasked with developing and maintaining a public affairs and communications strategy on behalf of the embassy. The embassy initially hired the firm in January 2020 to provide media outreach and mural exhibit design support during the 2020 Cherry Blossom season in Washington, DC.
Europe
Germany (DEKRA): DEKRA North America, the US subsidiary of the German vehicle inspection company, has hired Washington firm PACE to lobby on "vehicle safety testing" and "vehicle emissions testing." PACE partners Scott Lane, a former aide to President Ronald Reagan and the late Sen. Warren Rudman (R-N.H.)., and Devin Rhinerson, a former aide to Sen. Dianne Feinstein (D-Calif.), are lobbying on the account along with senior associate Ross Arnett, a former communications director to Rep. Raul Ruiz (D-Calif.).
Middle East
Qatar: Holland & Knight's lobbying for the Embassy of Qatar during the six months through February focused largely on language in the FY 2021 National Defense Authorization Act (NDAA) pertaining to the US military base at Al Udeid, a new lobbying disclosure shows. The act was enacted into law on Jan. 1 after Congress overrode President Donald Trump's veto. Former Reps. Tom Davis (R-Va.) and Tom Reynolds (R-N.Y.) and public affairs adviser Jodi Richardson are registered as foreign agents on the contract. The firm repeatedly reached out to staff for Sen. James Inhofe (R-Okla.), who was then chairman of the Senate Armed Services Committee, in September and worked to arrange a dinner for fellow committee member Tim Kaine (D-Va.) with Qatari Ambassador to the US Sheikh Meshal bin Hamad Al Thani.
On the House side, the firm organized a Nov. 6 call with Reps. Fred Upton (R-Mich.), Alex Mooney (R-W.Va.), Mike McCall (R-Texas), Joe Wilson (R-S.C.) and Greg Walden (R-Ore.) and reached out to staffers for Reps. Robert Wittman (R-Va.), Mike Conaway (R-Texas) and Chris Jacobs (R-N.Y.). Holland & Knight also Jan. 22 Zoom call between Rep. Carolyn Maloney (D-N.Y.) and the ambassador.
The FY 2021 NDAA contains several provisions related to Al Udeid, the largest US military base in the Middle East. This includes a $26 million authorization for military construction by the Air Force and $791.2 million in Qatari-funded projects (see table below). Holland & Knight signed on as a subcontractor to Qatari lobbying firm Nelson Mullins in February 2020 for $35,000 per month.
Separately, Neale Creek founder Andrew King, a former deputy chief of staff to Sen. Lindsey Graham (R-S.C.), focused his lobbying for the embassy on his former boss during the six months through March. King also reached out to the offices of Sens. Ted Cruz (R-Texas), Todd Young (R-Ind.) and Kevin Cramer (R-N.D.) and Reps. Joe Wilson (R-S.C.), Jodey Arrington (R-Texas), Dusty Johnson (R-S.D.), Brian Mast (R-Fla.) and Maria Elvira Salazar (R-Fla.). Neale Creek has represented the embassy since September 2019 for $50,000 per month.
---
Caught our eye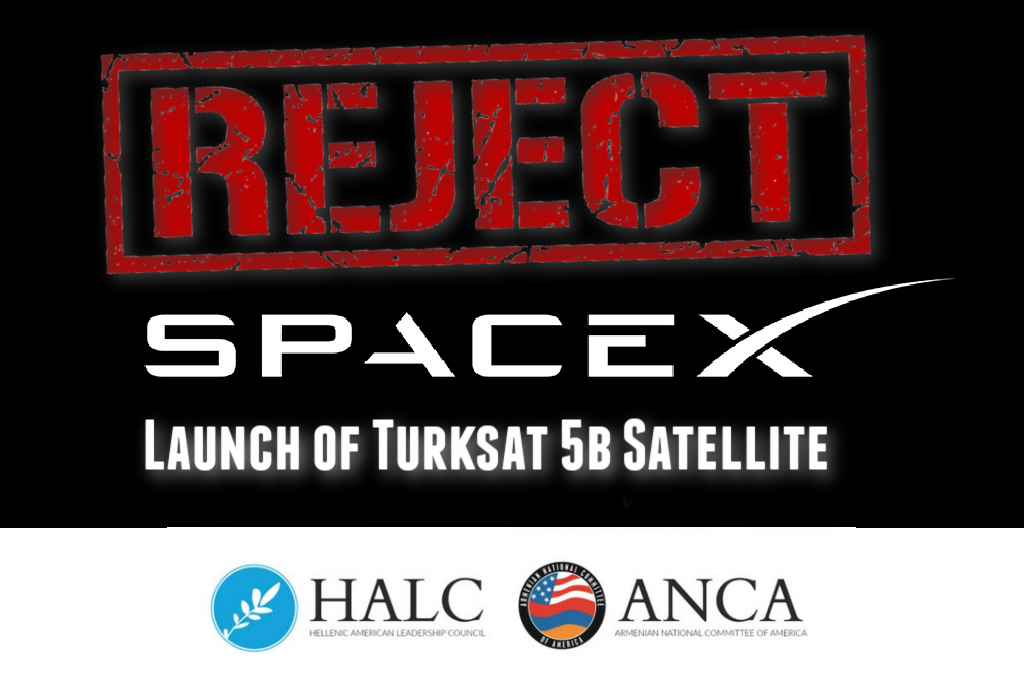 Armenian and Greek diaspora organizations are urging the Joe Biden administration to block Elon Musk's SpaceX from launching of a Turkish communications satellite on national security grounds.
The Hellenic American Leadership Council and the Armenian National Committee of America wrote to the Federal Aviation Administration (FAA) over the weekend to block the plans, arguing that the communications satellite has dangerous military application, Ahval reports. SpaceX is slated tp send the Turksat 5B into orbit in June 2021.
Protesters opposed the Jan. 8 launch of Turkey's Turksat 5A satellite on the same grounds, to no effect.
The Foreign Influence Transparency Initiative at the Center for International Policy has a new report out tracking the 54 bills that have been introduced to reform the Foreign Agents Registration Act (FARA) since it was last amended in 2007. Although none of the bills passed, the report optimistically notes "substantial bipartisan interest" in reforming the US government's main tool to track foreign influence operations targeting the US government and public.
"By studying these failed efforts, this brief aims to identify key trends in FARA reform proposals by focusing on their originators and contents," the report states. "As the new Congress begins to shape its legislative agenda, we hope this output will stimulate more meaningful discourse around FARA reform, focus attention on neglected parts of the framework, and help identify opportunities for congressional collaboration."